Don Quixote
Richard Strauss
Young audiences can enjoy the adventures of Cervantes' hero set to music by Richard Strauss.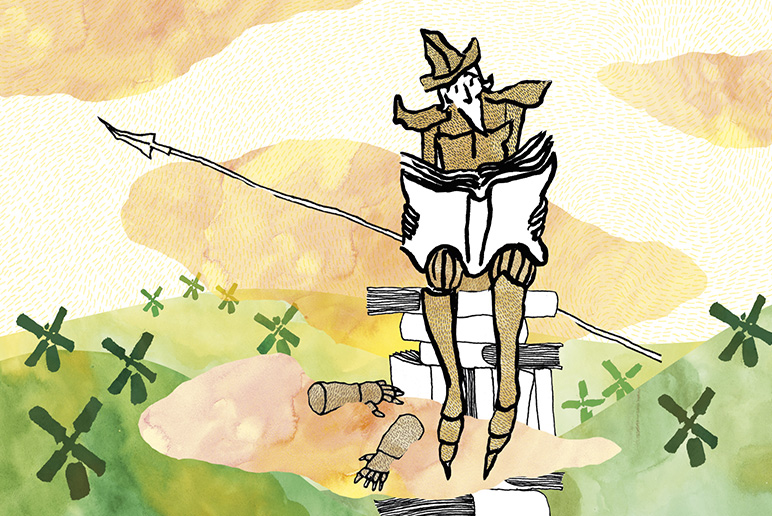 Cast
Arthur Lavandier | musical arrangement
Léa Hennino, Elliot Jenicot | text
Cécile Pruvot | illustrations
Elliot Jenicot | narrator
Shuichi Okada, Manon Galy | violin
Léa Hennino | alto
Yan Levionnois | cello
Yann Dubost | double bass
Guillaume Bellom | piano
Rodolphe Théry | percussion
Ensemble Ouranos | wind ensemble
Programme
Fantastic variations on a chivalrous theme
after Don Quixote de la Mancha by Miguel de Cervantes
About
What better narrator than Elliot Jenicot, with his gift for clowning and pantomime to present the adventures of the Knight of the Sorrowful Countenance and his squire Sancho Panza to a young audience? The notes are, of course, by Richard Strauss, with "fantastic variations" revised by Arthur Lavandier, born in 1987, for the wind players of the Ensemble Ouranos. Illustrated by Cécile Pruvot, Cervantes' hero will therefore joust with windmills and a flock of sheep and muse at length on his distant Dulcinea, to name but a few episodes, in a more pared-back form. An antihero's life, in short.
Coréalisation Jeanine Roze Production / Théâtre des Champs-Elysées