Les soirées mythiques au TCE: le premier concert de Diana Ross à Paris, 1973
Publié le 27/09/2019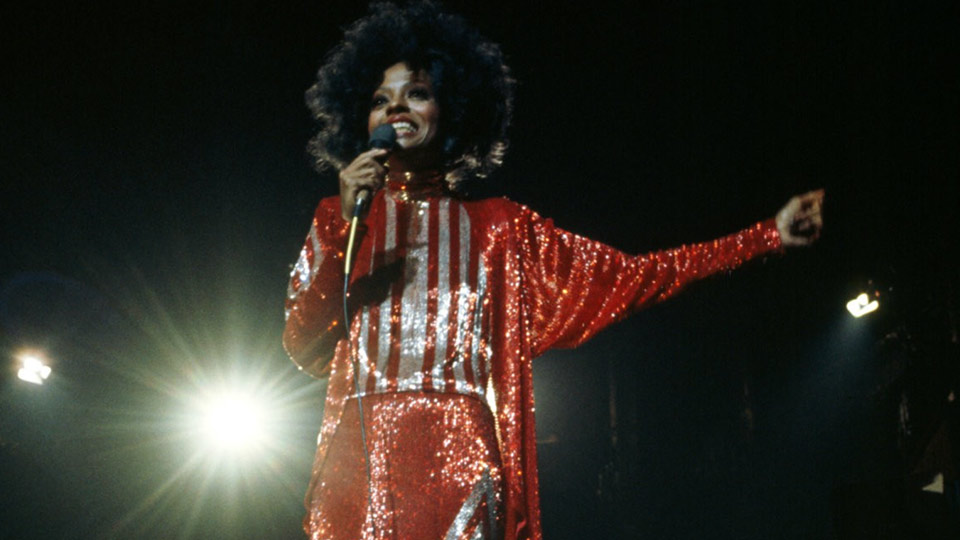 Vous avez bien lu : Diana Ross ! Ce jour-là il y a 50 ans, elle se produisait à Paris pour la première fois lors d'un concert légendaire dont on a gardé trace. On vous raconte.
Jeudi 27 septembre 1973, 21h.
La lumière de la salle s'estompe progressivement et l'orchestre sur scène entame une intro jazzy langoureuse. Quelques secondes plus tard, une sublime silhouette féminine, toute vêtue d'un lamé rouge scintillant de mille feux, pénètre discrètement dans la salle par l'une des portes latérales. Diana Ross fait son entrée et commence à chanter en s'avançant entre deux rangées.
Soudain un spectateur bondit de son fauteuil, l'enlace et tente de lui donner un baiser forcé. La reine du R&B s'arrache à l'étreinte, poursuit sa traversée de la salle puis finit par demander à l'orchestre de s'arrêter. Elle revient sur ses pas et à son tour prend l'initiative d'embrasser son fan. "I'm sorry I hurt you, sweetheart. Yeah, I bit him!" ("Excuse-moi de t'avoir fait mal, chéri. (au public) Oui, je l'ai mordu !")
« Let's start again ».
Les musiciens reprennent et la diva monte sur scène rejoindre ses musiciens.
Ainsi débute le premier concert de Diana Ross à Paris où elle chanta notamment "Touch Me In The Morning", "Ain't No Mountain High Enough" (extraits de sa récente collaboration avec Marvin Gaye), quelques reprises du temps des Supremes ("Stop! In The Name Of Love", "My World Is Empty Without You", "Baby Love") et plusieurs extraits de Lady Sing The Blues ("Lady Sings The Blues", "God Bless The Child", "Good Morning Heartache", "My Man").
Lady sings the blues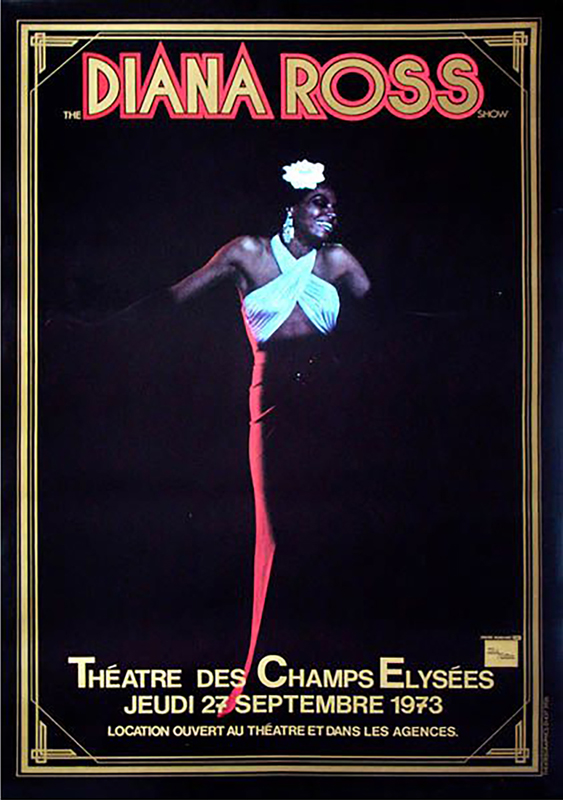 Cette année-là, l'ex membre des Supremes, groupe iconique du mythique label Motown, est au zénith du succès, et vient d'interpréter le rôle de Billie Holiday dans le film Lady sings the Blues, rôle qui lui vaudra une nomination aux Oscars. Elle y est saisissante en diva vieillissante abîmé autant par l'alcool que ses amours tragiques.
En plus de 50 ans de carrière, les concerts de Diana Ross seront rares à Paris : le Théâtre des Champs-Elysées en septembre 1973, « un » Olympia en mars 2008 et le Palais des Sports en mai 2007. Cette archive de septembre 1973, issue du site de son Fan Club officiel, en est donc un document des plus précieux.
Pour en savoir plus: feuilletez le programme du spectacle de l'époque ici: http://www.tce-archives.fr